There are few things more dull than that eternal topic of north London dinner party conversations  - comparative house prices.
However news this week from Nationwide Building society shows that over the last year the price of London Housing has risen out of all proportion to the rest of the UK
The Guardian today presented an interesting map comparing current prices with those of a year ago.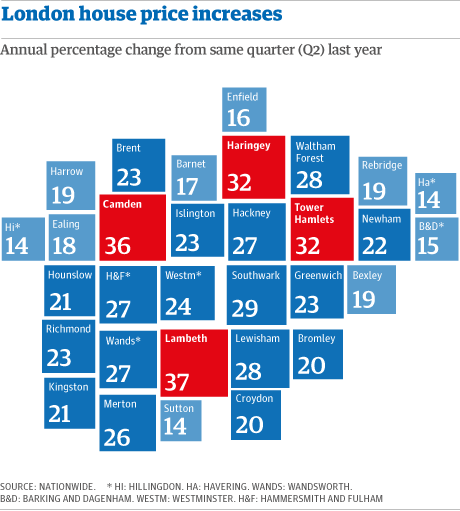 Haringey is one of the boroughs with the highest rise of 32% - far greater than Enfield with its more modest 16% rise.
Commenting on the figures, Robert Gardner, Nationwide's Chief Economist, said: "The price of a typical UK house rose by 2.9% in Q 2, after allowing for seasonal effects. Prices were up 11.5% compared with the same quarter of 2013. Annual house price growth accelerated to 26% in London, far outpacing the rest of country, and the highest growth rate since Q3 1987. P rices in the capital are now 30% above their 2007 peak, with the price of a typical London property now in excess of £400,000."