News today of the next stage of the proposed Crossrail 2 rail scheme which will provide new rail links from the north east of the capital - Tottenham and Hackney via the centre of town to London's leafy south-west including Wimbledon and Surbiton.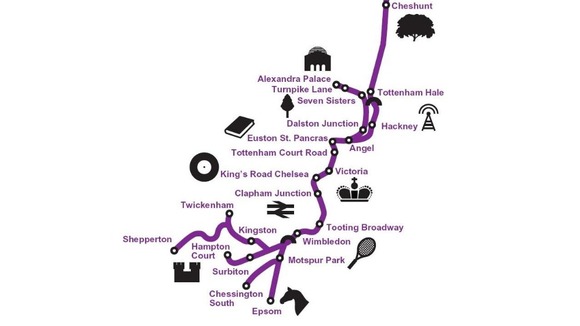 Image: London First
Close to home Alexandra Palace features as a terminus - earlier proposals had included a spur to Alexandra Palace with a tube interchange at Wood Green – running much of the new traffic over the Bowes Park line. Today's proposal sees the connection to the tube moved one stop south to Turnpike Lane.
At a time when London's projected population - 10 million within the next 20 years - is set to rise by 1.5 million above current levels, the additional capacity is planned to relive pressure on existing Tube and rail networks.
According to Transport for London  passengers on the Victoria Line enjoy the most intensive train service in the UK, with 33 trains per hour and less than two minutes between trains during the vital morning and evening rush hours. However this is not much use when you are stood six deep at Finsbury Park attempting to board an already full train!
But don't hold your breath … the proposal by business group London First is likely to cost £12 billion and it would not open until after 2030. A major part of the work will be a new tunnel from Tottenham Hale to Wimbledon.
Whilst it is a genuinely far-sighted proposal it is a shame however that the current work going on at Alexandra Palace station does not exhibit the same vision - They can't even manage to ensure universal access to the platforms by installing a simple lift.